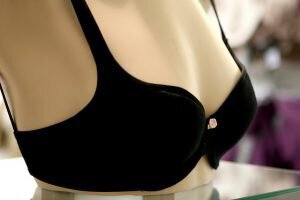 Posted April 15, 2016
There are many reasons to undergo a breast augmentation. The most important one is to look and feel good about yourself. Secondary satisfaction comes from the myriad of new styles and colors that you will look great on you. The same is true for sexy lingerie as well. What happens with all the new clothing that you acquire?
Laundry. The piles seem never-ending, and most of us have certain ways to avoid this chore as long as possible. As much as you may want to spend your down time doing other things, it is important to pay attention to those clothes; otherwise, they may turn on you. This is especially true when it comes to your undergarments. Most women will be surprised to learn what can happen when they don't wash their bras often enough.
Bras are worn closer to the body than other garments, besides your underwear. For this reason, they require more frequent washing. They should also be alternated rather than worn day after day. That just makes everyone sad. What will really make you sad is knowing what happens to your bra, and to your body, when you don't wash on a weekly basis.
A buildup of "nasties." When a bra is taken off and tossed in the drawer, lotion, dirt, oil, and bacteria can accumulate within its fibers. Even more alarming, so can fungi and yeast. Yuck! Who wants these nasties next to their nipples! When they co-exist, these factors are more than just gross, they can be harmful to your skin.
Unpleasant odor. Most adults know that one of the benefits of washing clothes is to prevent unpleasant odors. This includes the bra, which will eventually begin to stink if not properly laundered on a regular basis. What's worse, the persistent odor from sweat, bacteria, and all those little nasties can start to penetrate your other items of clothing.
After several days of contact with deodorant, that lovely lacy bra may take on a yellow tinge around the sides. Because sweat gets into the mix, along with oil, dirt, and whatever lotion you have put on, these stains can be difficult to remove.
Breakouts are not reserved for the face; the delicate skin on the chest and breasts may also develop acne from a dirty bra. This is especially relevant to women who work out often and try to maximize the use of their sports bra by hanging it out to dry without a good washing. Because of the friction and buildup of sweat, oil, and bacteria that occur in the sports bra, this item should be worn no more than three times before washing.
Rash or infection. Bacteria and yeast love cozy, moist places such as the underside of the breasts. Should these microorganisms collect on your bra, you may notice irritation and redness, or a full-on rash or infection that requires medical attention. It takes a whole lot more time out of your busy schedule to see your doctor and fill a prescription than it does to wash your bra each week.
One of the causes of uncomfortable nipple chafing is the unlaundered bra. This condition may occur very quickly when dry skin meets sweaty, dirty bra.
In short, baby your bra. Protect your investment. Your breasts will thank you.
If you are interested in finding out more about breast augmentation, please contact top Cosmetic Plastic Surgeon Dr. Friedlander at (973) 912-9120 for an in depth consultation to find out if breast enhancement is right for you.