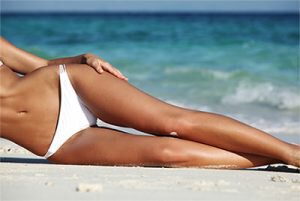 Posted August 18, 2017
Summer isn't over yet, and taking care of your appearance is more important than ever. Having toned, sexy legs will look great whether you're spending the day at the beach in a sundress or a summer night out on the town in your favorite jeans. If you want to show off your legs with confidence throughout the rest of summer, take a look at our top tips for getting the most alluring legs.
Build Muscle Definition with a Fitness Routine
Committing to a regular routine can do wonders for your health and the overall appearance of your body. Not only does an exercise routine help eliminate fat, it also helps to keep your legs slim and well-defined. If you're looking to improve the look of your legs through fitness routines, some of the best exercises to remember include:
• Weight lifting
• Yoga
• Hiking
• Dancing
• Swimming
• Running
• Plyometrics
• HIIT (High Intensity Interval Training)
One of the most important things to remember when training is to keep things fresh and varied. Doing the same thing every day will cause you to plateau and won't garner the results you desire. You should make a list of the activities you enjoy doing the most and alternate your exercises every day. You can also contact a personal trainer to help develop a customized plan based on your needs and goals.
Slim Down and Optimize Your Health with a Diet Plan
While working out is great for toning the body, it's nothing without a carefully laid-out diet plan. Your diet is a key component to building a better body. If you indulge in too many unhealthy foods, you will begin to gain weight and excess fat throughout your whole body, especially the thighs.
By eating a balanced diet full of fruits, vegetables, and plenty of protein, you will be able to manage your weight more effectively and maintain a well-defined body. It will also help you feel more energetic during the day and more prepared to tackle your workouts.
Losing weight is great for your health, but there are cases where the effort put into the gym and in the kitchen aren't enough. Weight loss can leave excess sagging skin and stubborn fat deposits that are difficult to remove with exercise and dieting alone. In cases like these, people often consider cosmetic procedures to help obtain the contours they desire.
If your legs have a saggy appearance or fat that won't go away no matter what you try, a thigh lift can help. This procedure is designed to help eliminate excess skin and fat deposits from the thigh area. It can make your legs look lean, smooth, and more beautiful.
Schedule a Thigh Lift Consultation with Dr. Friedlander
If you want to learn more about the thigh lift and the benefits it can provide you, contact our New Jersey cosmetic surgery office to schedule a consultation with Dr. Beverly Friedlander. She will help answer any of the questions you have about the procedure and guide you through the entire process to ensure the best results possible.