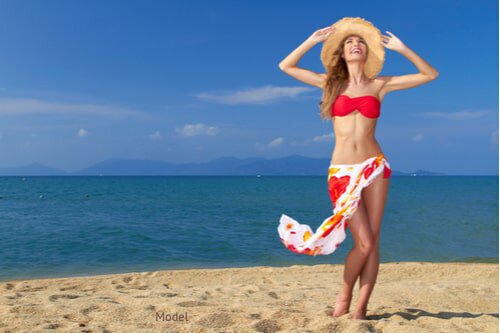 Posted May 04, 2020 in
It's May, and the weather is finally spring-like. With Governor Murphy opening up the state parks this past weekend, it was all on board for some enjoyable time in the sun. People were out and parking lots were relatively full, social distancing aside. Having been quarantined for 6 weeks already here in New Jersey, it's easy to forget your routine of applying sunscreen before leaving the house. Remember that light penetrates through (car) windows. So, even if you are not outside but you are sitting next to a window, please apply your sunscreen.
So, here are some fun facts:
Apply your sunscreen (see below) 20 minutes before going out- even in cloudy weather and reapply every 2 hours or after swimming and excessive sweating
The sun's rays are strongest between 10 AM and 2 PM, so stay in the shade if you can
Use 1 ounce (2 tablespoons) evenly distributed each time you apply (you may use less if you are not wearing a bathing suit or skimpy clothes)
Remember water, sand and snow reflect sunlight, so wear sunscreen, even if it is cold.
SPF 30 blocks 97% of the sun's harmful rays. SPF 50 blocks 98% of the sun's harmful rays. Always use SPF of 30 or higher.
If you use an antioxidant containing Vitamins C and E (such as SkinCeuticals CE Ferulic) you can increase the efficacy of your sunscreen by 4 times—this means better protection, NOT more time in the sun
90% of visible aging is caused by sun damage.
There are 2 types of sunscreens: chemical and physical. Here are the differences:
Physical
Pros:
Broad Spectrum-protects against both UVA and UVB
Less likely to irritate "sensitive "skin
Less likely to clog pores – so it's better for acne-prone skin
Will be effective immediately
Cons:
May leave a whitish tint on the skin
Rubs off more easily, so may require more frequent application
Chemical
Pros:
Easier application since it is typically thinner
Cons:
Needs to be applied 20-30 minutes before exposure (this is because chemical sunscreens actually react with the skin causing the UV radiation to become deactivated and release heat. It takes a few minutes before exposure to set up this reaction
Maybe more irritating to sensitive skin especially with higher SPF's
More likely to clog pores
Here at the True Beauty Med Spa in New Jersey, we love the eltaMD physical sunblock and the ZO sunscreen.
Enjoy your time out. Protect your skin. Prevent aging before you have to. Reach out to Dr. Bev or her master aestheticians at (973) 912-9120 if you have any questions about sunscreens or if you are interested in undoing the damage that years of unprotected sun exposure and tanning have done to your skin.