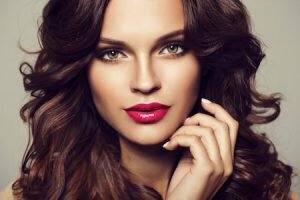 Posted October 04, 2017
Having luscious lips is more than just about how they look. In addition to their appearance, having the most kissable lips is about touch, feel, and taste. The lips are a sensitive part of the body, and the slightest touch can bring out a combination of feelings. They are an important part of our sensual experiences and a crucial factor in how we feel about ourselves.
While taking care of your lips seems easy enough, many people don't, and these people end up with dry, cracked, and thin lips. With the following tips, however, you can obtain the beautiful lips you desire.
Stay Hydrated
One of the most common causes of dry lips is a lack of proper hydration. Your body needs water to survive, and without it, your skin will become dry, dull, and cracked. You should make sure to drink enough water throughout the day to maintain the proper level of hydration. Doing this will ensure that your lips retain their natural plumpness and soft feeling.
Keep Your Lips Protected
When exposed to various outside elements, your lips will surely succumb to their damaging effects and become chapped if you don't keep them protected. Remember that a moisturizer or chapstick can help keep your lips protected from long-term exposure to the sun, strong winds, and extreme cold. For added protection, make sure to use products with SPF for even more protection.
Exfoliate Your Lips
Over time, your lips may develop a rough texture and require exfoliation. This is a critical part of obtaining softer, more beautiful lips. A good lip exfoliator will give your lips a silky smooth texture and make them taste sweeter when you kiss that special someone.
Consider Lip Enhancement
Following these tips is a great step toward achieving the beautiful lips you desire. For even faster results, however, you should consider utilizing fillers for lip enhancement. In the hands of an experienced surgeon, fillers can help anyone achieve fuller, plumper lips quickly and safely. Lip fillers are the perfect way to achieve a little more definition or to go dramatic and get that volume you have always wanted.
Contact Our Office
Interested in learning more about how to improve the look and feel of your lips? Contact our Medical Spa in New Jersey today. With the help of Dr. Beverly Friedlander, the lip problems you're experiencing will be a thing of the past, and your lips will look more beautiful than ever. Take advantage of our Lip and Lash promo for an even more dramatic look (Fall 2017).