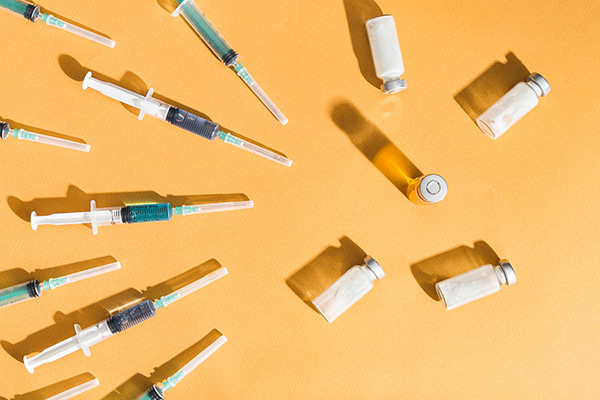 Posted August 18, 2023
In the realm of non-surgical cosmetic procedures, Botox and dermal fillers are two popular options for achieving facial enhancements. While both aim to address signs of aging, it's important to understand the differences between Botox and fillers to make an informed decision about which treatment is right for you. In this blog post, we will explore the distinctions between Botox and fillers, their respective mechanisms of action, and the areas they target. Let's delve into the world of injectables and discover which approach aligns with your aesthetic goals.
Botox: Relaxing Muscles, Reducing Dynamic Wrinkles
Botox, short for botulinum toxin, is a neurotoxin that works by temporarily blocking nerve signals to specific muscles. It is primarily used to reduce the appearance of dynamic wrinkles, which are formed by repetitive muscle movements. Botox is commonly injected into areas such as the forehead, between the eyebrows (frown lines or the 11's), and around the eyes (crow's feet). By relaxing the underlying muscles, Botox softens the appearance of these wrinkles and prevents them from becoming more pronounced.
Dermal Fillers: Restoring Volume, Smoothing Static Wrinkles
Dermal fillers, on the other hand, are injectable gels composed of various substances, such as hyaluronic acid (HA fillers such as RHA, Juvederm, and Restylane), calcium hydroxylapatite (Radiesse), or poly-L-lactic acid (Sculptra). Unlike Botox, fillers work by restoring volume and filling in wrinkles and lines. They are primarily used to address static wrinkles, which are visible even when the face is at rest. Fillers can effectively treat areas like nasolabial folds (lines from the nose to the mouth), marionette lines (lines from the corners of the mouth to the chin), and loss of volume in the cheeks and lips. By replenishing lost volume, fillers can provide a more youthful and plump appearance.
Treatment Areas and Results
Botox and fillers target different areas of concern and produce distinct results. Botox focuses on smoothing out wrinkles caused by muscle contractions, while fillers primarily address volume loss and deep folds. Botox provides a temporary reduction in the appearance of dynamic wrinkles, typically lasting around three to four months. Fillers, depending on the type used, can last from several months to over a year. Results from both treatments are noticeable shortly after the procedure, with the potential for touch-ups and maintenance sessions as needed.
Combination Approach: Botox and Fillers
In some cases, a combination approach using both Botox and fillers may be recommended to achieve comprehensive facial rejuvenation. Botox can address dynamic wrinkles, while fillers restore volume and enhance facial contours. This combined strategy can result in a balanced, natural-looking transformation that targets multiple signs of aging.
Conclusion
Understanding the differences between Botox and fillers is key to choosing the right treatment for your aesthetic goals. Botox is ideal for relaxing muscles and reducing dynamic wrinkles, while fillers are used to restore volume and smooth static wrinkles. Consulting with a qualified aesthetic professional will help determine the most suitable approach based on your individual needs. Whether you opt for Botox, fillers, or a combination of both, these non-surgical options can provide remarkable results, helping you look and feel your best.
If you have any questions about Botox in New Jersey or Fillers in New Jersey, or you are interested in finding out if you are a candidate, please contact Dr. Bev at the True Beauty Medical Spa (973) 912-9120 to schedule your confidential consultation.