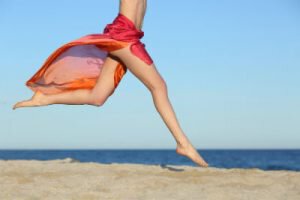 Posted September 30, 2015
Summer may be over, but that doesn't mean you've stopped caring about your appearance. Sexy, toned legs will look just as great in your favorite jeans as they do in your summer sundress. Find out how to improve the appearance of your legs so you can show them off with confidence all year long.
Build Muscle
Regular exercise can help you keep your legs slim and strong. Keep some variety in your workout routine to tone all the muscles in your lets. Some good exercises for strengthening your leg muscles include:
Walking and jogging
Swimming
Weight lifting
Dancing
Pilates and Yoga
Hiking
The most important thing is to stay active and keep things varied so every part of your leg gets a workout. Choose a few activities that you like and alternate between them. If you need help staying motivated, contact a personal trainer or ask a friend to be your exercise buddy.
Eliminate Extra Fat
Eliminating excess fat will make your legs look sleeker and make it easier for your toned muscles to take the center stage.
Losing weight is the first step to getting rid of extra fat. While losing weight is hard work, the principle is still very simple. You need to expend more calories than you consume. This will be easier to do if you get enough sleep to be energetic each day, exercise 4-5 days a week, and eat a balanced diet with fruits and vegetables. If you need help losing weight contact your doctor.
While losing weight can improve your health, weight loss can sometimes leave you with excess skin and fat that wont go away. Cosmetic procedures can help you eliminate extra fat and skin and show off the body you've worked so hard to get.
A thigh lift is a procedure designed specifically to remove stubborn excess fat and skin in the thighs. This procedure can make the skin appear tighter and smoother while making the legs look thinner. This can improve your appearance and make your clothing fit more comfortably. If you'd like to learn more about the thigh lift procedure, schedule a consultation with New Jersey plastic surgeon, Dr. Friedlander.