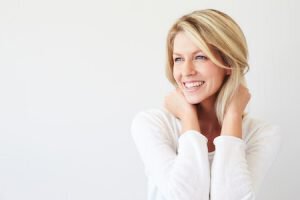 Posted September 07, 2017
There are a myriad of dermal fillers available to help improve various aspects of your face and your overall look. Fillers can be used to treat wrinkles and fine lines in your face, give your lips more volume, and improve fullness in your cheeks. With so many options available to you, it can be difficult to choose the right one for your needs. With this helpful guide, however, your choice can be easy.
Fillers Infused with Hyaluronic Acid
Hyaluronic acid is a natural substance in the skin that attracts and holds a vast amount of moisture. It works to replenish the skin by enhancing its look and feel. The most popular injectable fillers are made with hyaluronic acid. The most common among them are Restylane, Juvederm and Voluma. These fillers provide immediate results that you can see before you leave the office.
Fillers Without Hyaluronic Acid
There are also fillers such as Radiesse and Sculptra that do not contain hyaluronic acid. Radiesse is composed of granules of calcium hydroxylapatite, a substance that can be found naturally in the body. It can provide significant improvements to large areas of the face and is an effective solution for restoring volume in the mid-face region. Radiesse improves your fullness immediately and it continues to work over time by stimulating your own natural collagen growth.
Sculptra is made of poly-L-lactic acid and works to stimulate collagen production in the skin. The boost in collagen can help improve your appearance gradually while retaining the natural look you desire. In some cases, this treatment has been known to provide results that last for up to two years.
Utilize Your Own Fat as a Filler
Many people don't know that you can make use of your own fat cells as a facial filler. This method is a safe and natural way to improve your facial features. The treatment requires fat to be harvested from other areas of the body through liposuction. The fat is then purified and reinjected into the face providing long term improvement.
Contact Dr. Beverly Friedlander's Office
Choosing the appropriate filler that will suit your specific needs ultimately comes down to your personal preference, the results you expect, and how long you expect them to last. For more help making the right choice, contact us to schedule a consultation with New Jersey plastic surgeon Dr. Beverly Friedlander.