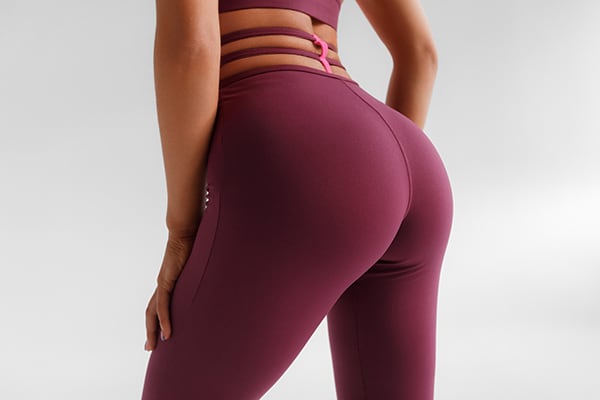 Posted October 12, 2023
Welcome to the second installment of our series on achieving a beautiful buttock. In this post, we'll delve into the common concerns of laxity and cellulite. We'll provide a comprehensive review of these issues and explore treatment options to help you enhance the appearance of your glutes.
Understanding Laxity and Cellulite What is Laxity?
Skin laxity refers to the loss of elasticity and firmness in the skin, which can lead to a sagging or drooping appearance. Stretch marks are also a sign of laxity, and their appearance may be confused with cellulite. On the buttocks, laxity may be caused by factors like aging, weight fluctuations, pregnancy, or genetics.
Cellulite is the dimpled, lumpy appearance of the skin, often compared to "cottage cheese." It occurs when fat deposits push through the connective tissue beneath the skin, causing a dimple. There are "bands" that are rigid and hold the skin in place, but the fatty deposits stretch the skin around them. Cellulite may be seen on the thighs or buttocks and may be localized to a few dimples or associated with multiple dimples. Cellulite can affect 80%-90% of women and rarely affects men.
While it's challenging to completely eliminate laxity and cellulite, there are lifestyle changes you can make to minimize their appearance:
Maintain a healthy weight through a balanced diet and regular exercise.
Stay hydrated to support skin health.
There are skin care products that hydrate the skin and may provide some improvement. One of the best products we have tested is a cream called Alastin Transform Body Treatment with TriHex Technology. This cream will not correct laxity or cellulite, but it improves the superficial appearance of the skin.
Treatment Options
Non-Invasive Treatments:
Several non-surgical options are available to address laxity and cellulite:
Radiofrequency: This technology uses heat to stimulate collagen production, improving skin tightness. This procedure consists of the general application of energy to an area and produces short-term improvement as opposed to the targeted application discussed below.
Laser Therapy: Laser treatments can target fat cells and stimulate collagen, reducing the appearance of cellulite. The results vary.
Topical Creams: Some creams and serums contain active ingredients that claim to reduce cellulite, although results may vary.
Minimally Invasive Procedures:
For those seeking more significant results, minimally invasive procedures may be considered for laxity and for cellulite. Often, it is necessary to address both conditions as they both contribute to the appearance of your buttocks.
Micro-Needling in combination with Radiofrequency: This treatment involves tiny needles that create micro-injuries in the skin, promoting collagen production and tightening. In combination with radiofrequency that is applied at the same time, targeted application of energy deep in the skin provides proven results.
Injectable Fillers: Hyaluronic acid fillers can temporarily improve skin texture and firmness in specific areas. Other fillers, such as Sculptra or Radiesse, function as bio-stimulatory fillers and help produce new collagen in the skin to improve its appearance.
Subcision: This is a minimally invasive procedure performed in the office, which targets the band that causes the cellulite. This band is rigid and prevents the skin of the buttock from smoothing out. Subcision is a slow and tedious process that releases or cuts these rigid bands. Aveli has streamlined that process. It uses 1 or 2 tiny incisions placed inconspicuously in the natural buttock crease to release the bands and provide an instantaneous improvement.