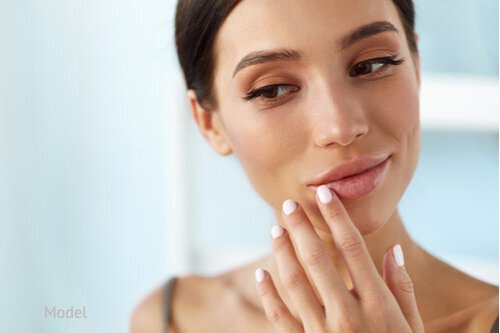 Posted May 11, 2020
Why are so many young patients getting lip filler? Yes, it is to achieve fuller lips, but do you know why? The lips (and the skin) lose about 10% of their natural volume every 10 years. Young women are looking for fullness, but they also want to prevent the inevitable changes that come with time. Lip fillers offer one way to do that naturally.
Lip fillers consist of hyaluronic acid (HA), a sugar that is naturally found in the skin. HA hydrates and plumps the cell. If your lips look deflated, dehydrated, and wrinkled, it ages you unnecessarily. The goal is to look youthful and have balanced features.
Lip filler can be injected in microdroplets both vertically and horizontally to achieve balance and symmetry, where it is needed the most. Fillers vary in thickness (density). Someone with thin lips is better suited for a less dense product. Denser HA will create more fullness. Either way, discuss your concerns and goals with your injector so that you can achieve the most natural look.
Fillers have variable longevity. They can be metabolized by the body in a few weeks or they can last several months. No two patients are alike. You can extend the results of your filler treatment by making sure your lips are protected at all times. Sara Happ makes a wonderful line of products exclusively for the lip that are very reasonable in price, which will exfoliate, hydrate, and protect your precious pout. HydraFacial offers a Lip Perk in-office treatment that does the same.
If you have any questions about lip fillers in New Jersey, or you are interested in finding out if you are a candidate, please contact Dr. Bev at the True Beauty Medical Spa (973) 912-9120 to schedule your confidential consultation.