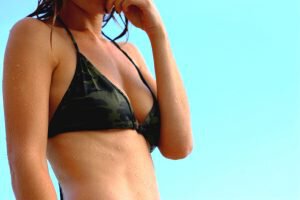 Posted May 15, 2016
Because most of the images we see on a routine basis are "touched up," it can be difficult to determine what is real and what is not. Information regarding topics of interest, including plastic surgery, is readily available. However, the plethora of information can also lead to the completely wrong impression. For instance, there are several myths that surround breast implant surgery. Here, we will tackle three that fall near the top of the list.
Bigger is Better
The myth that bigger is better is completely false, and it leads many women to ask for larger implants when this may not really be necessary. In our Short Hills, NJ practice, we listen to the requests of our patients. However, we also take a great deal of time to discuss size on a grander scale. How will the breasts fall on the chest? How high will they sit? Is there even enough skin to support the requested size? The goal of breast enhancement is to bring the breasts into lovely alignment with the rest of the body, not for them to be the only thing people notice.
Implants will Prevent Breastfeeding
If you want implants but have held off because you have been told you will not be able to breastfeed, we say come on in! Research shows that breast implants do not affect milk production or "delivery."
Saline is Safer
There was a time during which the safety of silicone breast implants was brought into question. Since the 80s and 90s, a number of advances have been made to secure a safe and efficient breast enlargement procedure. The models and materials used today are extremely safe, and they look and feel very natural. To help you choose between silicone and saline, Dr. Bev will discuss the various particulars that are important to outcome, not just material.
You are probably aware of the fact that the internet is not all facts. To keep yourself from falling into the area of fiction when it comes to plastic surgery in New Jersey such as breast enhancement, get the information you need directly from the source. Learn all about breast implants and what they can do for you in a no-obligation consultation with Dr. Bev.