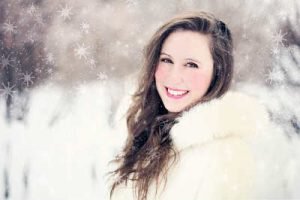 Posted January 12, 2016
Winter weather can be hard on your skin, especially when the air is dry and the temperatures are very low. Don't let the winter weather leave you with rough, dry, itchy, or blotchy skin. The following tips can help you keep your skin healthy, soft, and beautiful all winter long.
Remember UV Radiation Can Still Harm Your Skin In Cold Weather
UV radiation is incredibly harmful to your skin, and while you may be more concerned about UV rays in the summer, it is important to be just as vigilant during winter months. Many people forget to apply sunscreen when it is chilly outside, but sun exposure can still damage your skin. Keep sunscreen in your car or purse so that it is always handy, wear a hat to shade your face and neck when you're outside, and take extra precautions when you're in higher elevations where you're more prone to sun damage. Even if the rest of your body is bundled up for a trip down the slopes, your face needs sunscreen to protect it from UV radiation.
Moisturize Every Morning
Winter often comes with dry air and dry skin. Start your day off right by moisturizing your face and neck every morning. Winter is also a good time to apply extra moisturizing lotion to the rest of your body.
Take Shorter Showers
Long hot showers can feel great, but they sap moisture from your skin. Make an extra effort during the winter to take shorter showers so your skin can retain as much moisture as possible.
Avoid Coarse Fabrics
It is important to bundle up during the winter weather—especially if you have eczema or another skin condition that makes you extra sensitive to cold weather. However, when you're bundling up, choose your fabric wisely—coarse fabrics can irritate your skin. If you're going to be wearing wool, tweed, or sweaters, wear a layer of cotton underneath so that the coarser fabric doesn't bother your skin.
Pamper Your Skin
Your skin deserves occasional pampering, and the winter weather is the perfect excuse. Schedule an appointment at Dr. Friedlander's New Jersey Med Spa to relax and give your skin the attention it deserves.