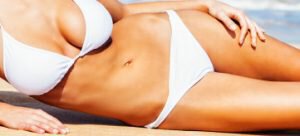 Posted March 15, 2016
In recent years, we have seen trending toward non-invasive treatments for cosmetic concerns. Developments in aesthetic medicine have brought us a host of injectibles to diminish our lines and wrinkles, skin rejuvenating treatments, and most recently methods of eliminating stubborn pockets of fat throughout the body. Patients of New Jersey plastic surgeon Dr. Friedlander can help you start preparing for summer now with CoolSculpting treatments; which can help improve their contours and make wearing that bikini more comfortable.
CoolSculpting can be used to reduce fat in many problem areas. The most common are the love handles and tummy. Other areas include the thighs, bra roll, knees, arms and even the neck!
Freeze That Fat!
Historically, fat removal has been achieved with the liposuction procedure. Make no mistake; the surgical removal of unwanted fat can still be ideal for many people. However, for the person who eats healthy, works out and still has those pesky areas of fat accumulation, non surgical fat reduction with Coolsculpting may be right for them.
CoolSculpting is based on cryolipolysis, a reaction that occurs in cells that are exposed to precise freezing temperatures. During treatment of a localized area such as the love handles or "muffin top," the innovative cooling device gently pulls tissue up between the two cooling panels. Patients sit back and relax for thirty to sixty minutes while the fat is "frozen". The sensations that may occur during treatment include mild tingling and numbness.
Some of the fat cells don't survive the process and are rendered non-viable. These fat cells "die" and are removed from the body naturally, without surgery or downtime over a period of 2-3 months. Early improvement can usually be seen by 4 weeks. A permanent reduction of 20-25 percent of the fat cells in the area treated can be expected.
Getting the Results you Want
The idea of non-surgical, completely non-invasive body sculpting is appealing to many people. One of the benefits of consulting about fat removal with Dr. Friedlander, a board-certified plastic surgeon, is that she will discuss with you what this treatment can – and cannot – do. In this way, you maximize the investment that you make into your physical appearance.
Whether it is non-surgical or surgical fat reduction that is best suited to your desired outcome, you can feel good about obtaining the full extent of information you need to make an educated decision about cosmetic care.
To Learn more about CoolSculpting in New Jersey and other fat removal methods, call (973) 912-9120 and schedule your in depth consultation with Dr. Friedlander.