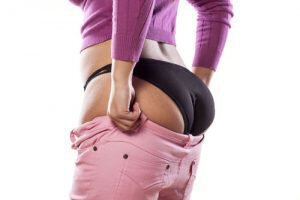 Posted February 20, 2017
Do you want to look better, but not at the cost of a big butt? Many women want a toned butt but aren't exactly sure how to get the definition they desire. Some people may attribute their lack of a well-rounded buttock to their genetics, so even with proper nutrition and an effective workout routine, you may not be able to achieve the shape you desire. The first step to achieving an improved shape is always going to be –lead a healthy lifestyle. Regardless of whether diet and life style are the answer for you or you need a little surgical help, these steps will help you feel better and achieve the best you can.
1. Improve Your Diet
If you fill up on processed carbs, sugars, and fat, there is no way for you to obtain the toned butt you desire. These foods can increase fat in various areas of the body and give your body an appearance that you won't be pleased with.
In order for you to increase definition and roundness, eating foods with high nutritional value is essential. Try to fill up on whole grains, vegetables, and protein. Meals that are rich in these foods provide the building blocks to a better body and can help add the muscle mass and definition you want.
2. Spend More Time Being Active
Making an effort to lead a more active lifestyle can be highly beneficial in improving the shape of your rear end. There are a variety of exercises available that will help increase definition and take your butt and your body to the next level.
Butt-toning exercises include:
• Squats (add weights or do one leg each to increase intensity)
• Running on a small incline
• Climbing stairs or using a stair-stepper
• Hip lifts
• Leg lifts and raises
This is just a small selection of the workouts available to you; there are plenty more to keep your workout routine interesting and fresh. While these exercises are specifically geared to improving gluteal and leg definition they help to tone the abs and create a shapelier torso as well.
3. Talk to Your Plastic Surgeon About a Brazilian Butt Lift
Eating healthy and being active are essential to maintaining optimal health, but they don't always provide the results you desire. A Brazilian Butt Lift will not only reshape your rear end but also your torso creating a flatter, more toned abdomen and a shapelier waist line. Many women are interested only in improving the shape of their buttock. Many of our patients who had plastic surgery in New Jersey have allowed us to share these results in our gallery. You should know the procedure can increase the size of the buttock as well.
If you are interested in finding out if a Brazilian Butt Lift is right for you, schedule a consultation with Dr. Beverly Friedlander by calling (973) 912-9120.