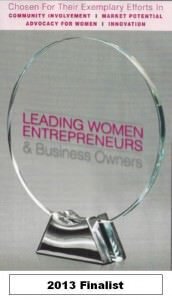 Posted June 27, 2015
Dr Friedlander was honored last month when she was selected as a finalist for New Jersey's Leading Women Entrepreneurs (LWE) of 2013. The mission of LWE is to "commend women entrepreneurs for their service, leadership, contribution to their communities and the state's economic recovery." These women have a strong idea about the value of leadership and the heights to which it can take a person, a company , a community or even a state and can empower others by creating a strong cultural identification to successful women as role models.
The finalists, who represent industries such as Technology, Construction, Law, Finance, Marketing, Healthcare and many others, generate 1 billion dollars in estimated combined revenue. In 2012, they employed close to 10,000 people . These numbers are staggering considering that in 2012 the unemployment rate in NJ was 9-10 %. Research shows that by 2018 women entrepreneurs will be responsible for creating 5.5 billion new jobs nationwide. The finalists are all actively involved in social advocacy programs and dedicate their time to supporting over 1800 nonprofit organizations.
Dr Friedlander is proud to be recognized among such a diverse group of women who have demonstrated excellence in Market Potential, Innovation, Advocacy for Women and Community Involvement. These women are the movers and shakers in the great state of New Jersey. Their stories are inspiring and may help others to reach for, and achieve their dreams.
Dr. Beverly Friedlander is now a board-certified plastic surgeon in New Jersey and provideds services in Short Hill. She specializes in a wide variety of surgical and non-surgical procedures ranging from breast augmentation to CoolSculpting