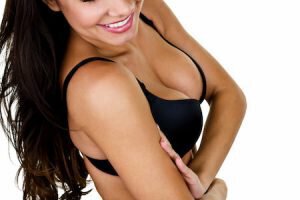 Posted October 31, 2017
Are you unhappy with the size or shape of your breasts? Are you concerned with the idea of a "foreign substance" such as silicone in your body? The IDEAL saline implant is now an option for you. It takes the best of saline breast implants and silicone breast implants and combines them into a great new design.
The IDEAL saline implant is an innovative saline-filled breast implant with a smooth surface. It has the look and safety of saline with the feel of silicone. The IDEAL implant is structured, meaning that it is composed of a multi-shell structure that holds two chambers filled with saline. Between the shells lies an internal structure that controls movement of the saline and contributes to the implant's natural feel.
The IDEAL Advantage
IDEAL breast implants provide a natural feel, a youthful shape, and improved contours without the risk of a silent rupture. Silicone implants can leak or rupture. Since the silicone is "gummy bear like" it stays inside the ruptured shell. There are usually no signs of rupture. Because of this, the FDA recommends a MRI scan for detection of these silent ruptures. The IDEAL saline implants can leak, but if they do, the implant will get smaller. You should be able to look into the mirror and know whether or not your implants are intact. You have no need to worry about an expensive MRI or a silent rupture.
With the IDEAL saline breast implant, you can feel confident knowing that there is a low rupture rateand any ruptures that may happen can be easily detected. If you do experience a rupture with the IDEAL implant, there's no need to worry about your health. The saline filler is harmless and can be easily absorbed into the body.
Improve Your Image and Self-Confidence
If you feel that your breasts are too small or uneven or do not have the shape you desire, the IDEAL breast implant may be the perfect solution for you. It can help give you larger breasts, improve your youthful allure, and give you a more aesthetically pleasing look. As a result, you may notice a substantial boost in your self-esteem and improved social experiences.
Enhance Your Body with IDEAL Breast Implants
The first step toward getting the body of your dreams is finding the ideal plastic surgeon. Contact us to schedule an appointment with Dr. Beverly Friedlander today. As a highly skilled and detailed oriented, board-certified plastic surgeon in New Jersey, she can help you achieve the body of your dreams.