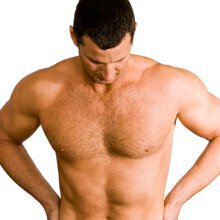 Posted October 12, 2016
Gynecomastia is a common condition where excess breast tissue develops in men creating the un-affectionately named "man boobs." There are any number of factors that may contribute to this condition from an imbalance in hormones, marijuana or anabolic steroid use, to a simple fluctuations in weight. Gynecomastia can make many men feel very self-conscious and uncomfortable in their bodies. While for the many men the gynecomastia may spontaneously correct itself within two years, for others the condition will only be improved through a malebreast reduction surgery.
Male breast reduction may be performed with liposuction or the non-invasive alternative called CoolSculpting, depending on the amount of reduction required to achieve the desired goal. If you are tired of feeling self-conscious in your body and interested in learning more about what you can do to get the more masculine chest appearance you desire, contact our office to schedule your consultation with board-certified New Jersey plastic surgeon> Dr. Friedlander today (973) 912-9120.