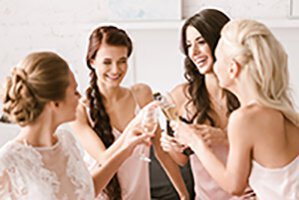 Posted July 28, 2017
Dr. Friedlander is a leading plastic surgeon in the New Jersey area and was recently featured in the New Jersey Bride magazine. In the article, she discussed non-invasive treatments and the benefits they can provide to women who want to improve their appearance and feel picture-perfect for their wedding day.
Dr. Friedlander understands how important it is for you to look outstanding on your special day. Your wedding is a once-in-a-lifetime event, where you should look and feel your absolute best. With help from certified estheticians, your wedding look preparation can go far beyond hair and makeup to include glowing, vibrant skin, and a more sculpted physique.
Non-invasive and minimally invasive treatments are safe and effective procedures that don't require a large amount of downtime. Financing is also available, to allow any desired treatments to work within your budget. You can achieve a noticeable improvement in your appearance without anyone having to know that you've had work done. Consider trying a few different treatments several months before the wedding to make sure you find the perfect treatment for your special day.
Some of the most popular treatments that Dr. Friedlander recommends for the big day include the following:
• Latisse – A prescription medication used to help you grow longer, thicker, and darker eyelashes.
• Customized Facials and Peels – Facial treatments that are tailored to your skins needs, typically done in a series beginning a few months prior to your wedding.
• Juvederm and Restylane Injections – Minimally invasive treatments for your lips and cheeks that enhance your appearance by improving fullness in areas where you need it most.
• Botox Injections – Injectable treatments that smooth out wrinkles for a more youthful and vibrant look.
• CoolSculpting – A fat-freezing treatment to help you achieve a smoother more contoured look by eliminating fat cells along areas like the abdomen and hips.
• Breast Augmentation - A surgical procedure that enhances the size and shape of the breasts. Any surgery involves a few months of recovery time, so be sure to plan accordingly.
Non-invasive and minimally invasive treatments are great alternatives for women who are short on time and want to rejuvenate and enhance their facial appearance without excessive downtime or surgical marks.
If you or a friend are considering plastic surgery, you should make sure that you're working with an experienced Board Certified plastic surgeon you can trust. Please contact Dr. Friedlander at (973) 912-9120 to set up your personal consultation and begin your journey toward the amazing look you deserve on your wedding day.