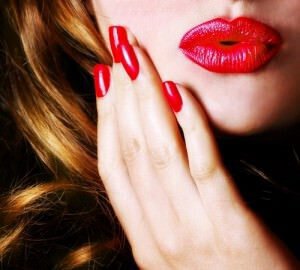 Posted June 27, 2015
What comes to mind when you think about kissable lips? Angelina Jolie? Kissable lips are about more than just appearance. They are about touch, feel and taste. Lips are extremely sensitive-lightly stroking them evokes a multitude of feelings. While not strictly considered a "sexual organ" they are very much a part of our "sexual" experience-and a very big part of feeling good about ourselves.
Do you:
moisturize your lips
exfoliate your lips
protect your lips
plump without injections
use makeup to your advantage
Lack of hydration(moisture) is the most common cause of dryness. Well moisturized(hydrated) lips look fuller and feel better. This can be achieved very simply by staying well hydrated, drinking plenty of water and limiting coffee and alcohol intake especially in the holiday season.
Believe it or not, your lips can get rough. Exfoliating is critical to attaining softer, more kissable lips. Over the counter lip exfoliators can be difficult to find, but the following home remedy works quite well. Place a small amount of sugar in your palm. Moisten it with a drop or 2 of water. Apply this slurry into lips with your finger and then rub your lips together for about a minute and then rinse. This will leave your lips looking and feeling silky smooth and tasting sweeter. You can do this once a week or before a big event.
Dry chapped lips are a turnoff. The cold and wind during the winter can be particularly drying. Some lipsticks and lip products contain additives such as fragrances and menthol which can be drying or irritating. Use a lip moisturizer or moisture barrier with SPF for added protection.
No blog about kissable lips would be complete without a mention of fillers. Fuller lips are more youthful. Creating fuller lips with fillers or a lip enhancement is an art and when done properly will result in lips which are natural looking and in proper proportion with the remainder of your face. Remember filler treatments should be performed by experienced injectors only. Medical Spas in New Jersey often provides consultations to help figure out what treatments could be right for you. In the absence of fillers there are old home remedies which can increase the circulation to the lips making them look fuller and moisturizing and protecting them at the same time. Add a few drops of peppermint oil to some Aquafor or Vaseline and massage it into the lips. The result is fuller plumper lips. That is why many glosses have a mint flavor.
Have you ever asked a makeup artist about the tricks of her trade? Here is one which is easy and works every time. Outline your lips with a liner a shade or 2 darker than your lipstick, followed by your lipstick. Apply a tiny amount of foundation to the center of your lower lip and blend. The light reflecting off of the color gives the impression of fuller lips. Finish the look with a minty lip gloss (see above).
I hope you have enjoyed reading this blog. Here's to a holiday season filled with much happiness and cheer!