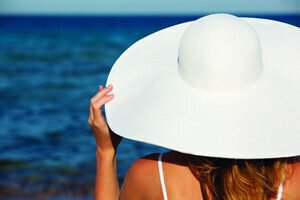 New Jersey has had its fill of weather issues. So let's put that behind us and look forward to a wonderful summer. Summer is the time to revel in the warmth and glow of the sun, drink lots of liquids and travel-both local and far. That being said, summer is a time to be outdoors, and with that comes a few -OK many- words of advice.
It is important to remain hydrated. Drink lots of liquids and stay away from soft drinks, as they are not a good source of nutrition. One cool way to remain hydrated is by drinking smoothies and eating fruit. These contain natural sugars as opposed to additives, and provide a great deal of nutritional value by providing vitamins, minerals and most importantly anti-oxidants. Berries provide high levels of anti oxidants and great taste. Mix them with some ice and low fat milk in a blender and you have instant relief on a hot day.
Sunscreen is a must. There is no getting around that. All sunscreens have SPF designations based on how much protection the product actually provides. SPF is related to the amount of time that it takes to get a sunburn (specifically UVB rays) while wearing the sunscreen in a controlled setting. A product with a lower SPF will protect you for less time than a sunscreen with a higher SPF. Once you get to an SPF of 30, there is NOT a lot difference in the amount of protection provided, as any sunscreen 30 or higher, will provide 90+ % protection against sunburns. The key to protecting your skin and preventing sunburn is 1) application prior to exposure and reapplication every 2 hours and after swimming, sweating etc. 2) Try to stay out of the sun when it is strongest, between 11AM and 3PM and 3) remember clouds offer no protection as you can get burned on cloudy days. Sunscreens not only prevent you from getting a tan, but more importantly the broad spectrum sunscreens today help to reduce your chances of premature aging and getting skin cancer.
Summer is a time to look "healthy". To most people that means getting some "color" or a tan. The damaging effects of the sun are not limited to those caused by sunburns. Prolonged tanning has many adverse effects as can be seen above. The ideal way to look healthy without giving up any of the advantages of sunscreens is to use a self tanner or to get a spray tan. These products induce a temporary change in color of the skin, last 2-3 days and are safe. There are many products available. Some look streaky when applied. Others may look orange on certain skin tones. A great product that is available locally at The House in Millburn is called Tan Towel. The self-tanner is embedded in a moist towelette, which can be used on the face and body. It goes on easily without streaks and looks natural.
Here's to an enjoyable summer. Stay healthy and remember that the best cure is an ounce of prevention. However, in the event that the sun gets the better of you, our Medical Spa in New Jersey can offer many skin care services to keep you looking your best with or without surgery.