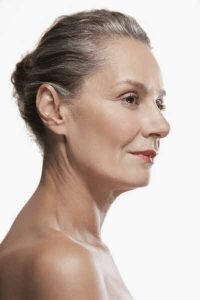 Posted July 30, 2015
Find out more about what causes wrinkles and what you can do to prevent and treat wrinkles to maintain a more youthful appearance.
What Causes Wrinkles?
Four common causes of wrinkles include:
Sun Damage – Ultraviolet rays break down your skin's connective tissue which can result in wrinkling and skin damage.
Age – As people age, skin becomes more fragile and thin. It loses its elasticity and moisture. All these things can make your skin appear more wrinkly.
Smoking – Smoking is bad for your health and bad for your skin because it accelerates the natural aging process.
Facial Expressions – Repeated facial expressions can cause wrinkles. This is one reason many people have wrinkles around their eyes, brows, and mouths. Frowning, smiling, and furrowing your brow can cause wrinkles over time.
How Can You Prevent Wrinkles?
Wrinkles are a natural part of the aging process, but there are things you can do to prevent wrinkles.
Avoid sun damage by wearing clothing that covers your skin, hats that shade your face, and sunscreen when your skin will be exposed.
Never use tanning beds.
Use moisturizers to keep your skin healthy.
Drink lots of water to stay well hydrated.
Get 7-8 hours of sleep each night.
Quit smoking.
How To Reduce The Appearance Of Wrinkles
If wrinkles are making you look older than you feel, don't fret—you have plenty of options. There are many ways to reduce the appearance of wrinkles. Use the following tips to get started:
Wear less makeup – This may seem counterintuitive, but heavy makeup settles into the lines and creases on your face and accentuates them. Keep your makeup light and natural, or forego the foundation altogether.
Use a retinol cream – Retinol creams work best if you apply them at night before bed. It may take a couple of weeks for your skin to adjust, but after a little while, you'll probably notice that some of your fine lines and wrinkles are less noticeable and that your skin is smoother.
Ask your dermatologist or plastic surgeon about Botox if you'd like to reduce wrinkles caused by repeated facial expressions without going under the knife.
If you want to reclaim your youth and start looking the way you feel, schedule a consultation with New Jersey Cosmetic Surgeon Dr. Bev Friedlander.