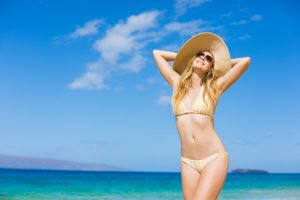 Posted August 15, 2016
You've scrimped . . . on tasty treats. You've crunched . . . literally! And now, you're enjoying the fruits of your labor; your beach body, that is. But what are those dimples? Isn't cellulite supposed to fade away along with those extra pounds?
Sadly, we hear far too often from women who have put in the work that they continue to struggle with cellulite. That's because this condition, which isn't the least bit fickle, is only partially associated with weight. We see women in their twenties who have yet to experience the changes that many women in their forties have gone through. We see women in their forties who have tried numerous diets, fitness trends, and topical solutions; all to no avail. The truth about cellulite is that most women have it, and they have it because of the innate makeup of their connective tissue, their sedentary lifestyle, and their hormones.
Accept Cellulite? No way!
Clearly, women around the world have continually sought solutions for rippled, dimpled skin. Many have turned to liposuction or the latest laser fat-reducing treatments. Like topical amino acid or caffeine solutions, surgical and laser methods typically achieve limited results. They are not intended to reduce cellulite, but to reduce fat, which they do quite well. To enjoy smoother skin, however, it is necessary to get to the root of the problem, and that is in the connective tissue.
Enter Cellfina™. This minimally invasive procedure takes only a short office visit to produce the desired outcome – and 96% of women remain happy with their results after 3 years. Approved by the FDA just last year, the Cellfina™ system actually cuts the ties that bind! During treatment, the problem area is pre-treated with local anesthetic. Dimples are marked, and then our handheld device is used to precisely release the bands of tissue that pull down on the skin. It's that simple. No downtime, no incisions, and minimal discomfort, if any, following treatment.
Does dimpling on your thighs or buttocks keep you from feeling your best? Cellfina™ could be the perfect way to polish off your beach body! Our office was one of the first to offer this treatment in New Jersey, and Dr. Friedlander continues to give patients the smoother skin they want in just one visit. For more information on this comfortable, effective cellulite-busting procedure, call 973-912-9120.