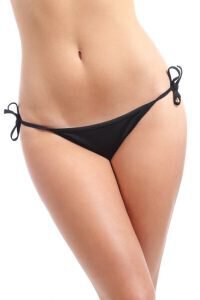 Posted July 12, 2016
Every Spring, there is a collective push that sends millions of men and women across the country into a fit of frenzy preparing their bodies for the upcoming Summer months. Well, that time is here. Swimsuits are taking the place of sweaters, socks and boots. The question is, what was the result of your months-long effort to slim down and tone up?
Body contouring is a tricky proposition. We are consistently given the idea that we can whittle away the mid-section, tone up the thighs, and melt that muffin-top with diet and exercise. The truth is, the complex mechanics behind weight loss can present an enormous challenge. The thing is, you don't have to stress out if you haven't reached the pinnacle of success in the body-contouring arena, help is out there and it will only take 35 minutes of your time!
The 35 minute treatment time is a brand new innovation, and Dr. Bev is one of the first plastic surgeons in New Jersey to offer this . With the treatment time cut in half, it makes it not only quicker, but better than ever! Dr. Bev has experienced the benefits of CoolSculpting first-hand, and she is a proud proponent of this non-surgical fat-reducing treatment. Doesn't this give you more of a reason to consider CoolSculpting?
Here are some key points that you should know about CoolSculpting:

The patented cooling technology can spot reduce areas including the thighs, hips, love handles, and even the chin without harming the surrounding tissue.
Controlled cooling of unwanted fat leads to its natural elimination.
The full effect of treatment may take about 3 months to notice, but the initial slimming effect may become evident in as few as 4 weeks.
Treatment time has been cut in half with the new applicators. This innovative technology works to destroy fat cells in short, 35-minute treatment sessions!
Because treatment is completely non-invasive, there is no need to take time off work or normal activities. You can get right back to your normal routine immediately after your appointment.
According to clinical research, 20-25% fat-reduction can occur after each treatment.
Fat cells are destroyed with cold temperatures, not shrunk. This means they are gone forever. Hurray!
It's not too late to feel like a more confident you this Summer. Allow yourself 35 minutes to visit our office for CoolSculpting to get rid of those fatty cells. Give us a call at 973-912-9120 to schedule a consultation with Dr. Bev.