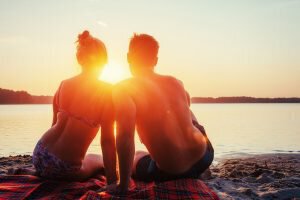 Posted February 12, 2016
Whether you're gearing up for a special Valentine's Day date or meeting a blind date for coffee, you want to go into your date feeling confident. There are a few things you can do before your date to boost your confidence and make sure you feel your best.
Exercise
Exercise will help you feel more energetic and healthy. It can also release endorphins that help you feel happy and satisfied. Find something that you enjoy and make time for a quick workout the day of your date. Take a spin class, do your favorite yoga poses, go for a jog, or go a few rounds with your heavy bag—you'll feel healthier, happier, and more attractive for the rest of the day.
Wear Something Comfortable
It is fun to wear something a little special for a date night, but remember to choose clothing and shoes that are still comfortable. If walking in those sexy high heels makes you uncomfortable, you're going to feel less confident, and if your dress makes it too tight to comfortably sit or hit the dance floor, you'll feel more self conscious than you would in something a little looser. Find a compromise and wear something that makes you feel like the best version of yourself—but is still comfortable.
Schedule A Facial


A special date is the perfect excuse to pamper your skin with a facial. You'll get to relax and feel refreshed and your skin will look better than ever. Some of the benefits that come from getting a facial include:

Reduce the appearance of lines and wrinkles
Help your skin look and feel firmer
Even out skin tone and reduce redness
Detoxify skin and eliminate things that can cause puffiness and redness
Reduce blemishes and minimize breakouts
Remove dead skin cells to leave you with smoother fresher skin
Most facial treatments last about an hour which will give you just enough time to focus on yourself and forget about all the other crazy things going on in your day. Facial treatments may leave you with a little bit of redness for an hour or two after the procedure, but your skin will be back to normal—or better than normal in time for your date. Taking some time to pamper yourself will leave you with smoother, clearer skin and a refreshed feeling that will help you feel and look more confident. Contact Dr. Friedlander at out Medical Spa in New Jerseyto learn more about your facial treatment options.