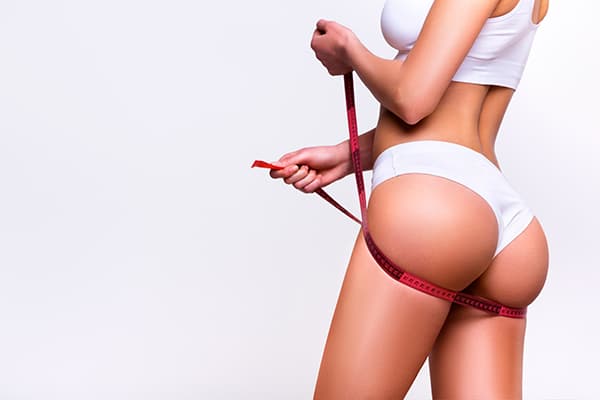 Posted October 19, 2023
Sculptra and Fat Transfer
Welcome to the final installment of our series on achieving a beautiful booty. In this post, we'll explore advanced options for enhancing the shape of your glutes using fillers like Sculptra and Fat Transfer. These procedures offer innovative solutions for those looking to achieve a more pronounced and shapely gluteal appearance.
Sculptra for Gluteal Enhancement
What is Sculptra?
Sculptra is an FDA-approved injectable filler primarily used for facial rejuvenation. However, it has gained popularity as a non-surgical option for enhancing the contours of the buttocks. Sculptra is composed of poly-L-lactic acid, a biocompatible substance that stimulates collagen production. This is a non-surgical procedure performed in the office that allows you to return to regular activities shortly after the procedure.
The Procedure
During a Sculptra treatment for gluteal enhancement, the filler is strategically injected into the buttocks to add volume and lift. You will see some improvement immediately associated with the procedure itself. However, Sculptra works by stimulating the body's natural collagen production over time, so there will be further improvement that occurs slowly and naturally. Two or three sessions may be required to achieve the desired outcome.
Recovery and Results
One of the benefits of Sculptra is that there is minimal downtime. You may experience some swelling or bruising, but these side effects typically subside within a few days. Over the following weeks and months, you'll notice a gradual improvement in the shape and firmness of your glutes. Results can last up to two years.
Fat Transfer for Gluteal Augmentation
Fat Transfer Basics
Fat transfer, also known as a Brazilian Butt Lift (BBL), involves the removal of excess fat from one area of your body and the injection of that fat into the buttocks. This procedure offers a long-lasting solution for gluteal augmentation but may not be appropriate for women with a low BMI. Typically, women who suffer from a flat booty, since they have little fat to spare, have been associated with complications when this procedure is used to create very large buttocks.
BBL involves the meticulous removal of excess fat from one area of your body and strategically injecting it into your buttocks to achieve a fuller and more shapely appearance. A full BBL results in buttock enlargement, which many women do not seek. Modified and mini BBLS can be performed, which require liposuction of the flanks and waist and sometimes the thighs to create a shapelier buttock with or without limited fat transfer into the lateral gluteal depression or "hip dip."
Consultation, Recovery, and Results
Before undergoing a liposuction or fat transfer procedure, you'll consult with a board-certified plastic surgeon to discuss your goals and assess your eligibility. Preparation may include specific instructions for pre-surgery care, including diet and lifestyle adjustments.
After a liposuction or fat transfer, you'll experience some swelling and bruising, and it's crucial to follow your surgeon's post-operative instructions diligently. A compression garment is required to help control any swelling. Results become more apparent as swelling subsides, and you can expect shapelier buttocks. Fat transfer provides long-lasting results, as the transferred fat becomes a permanent part of your body.
Finding the Right Way to Enhance Your Glutes
Enhancing the shape of your glutes using fillers like Sculptra or liposuction with fat transfer offers innovative and effective solutions for those seeking a more pronounced and shapely appearance. These procedures, when performed by skilled and experienced professionals, can help you achieve your aesthetic goals and enhance your confidence.
Always consult with a board-certified plastic surgeon or dermatologist to discuss your options, assess your suitability for these procedures, and address any questions or concerns you may have. If you are considering one of these procedures to enhance your buttock and get the look you've been wanting, call Dr. Beverly Friendlander at (973) 912-9120 to schedule your consultation and find out more about all of your options.
We hope this series has provided valuable insights into your journey towards achieving the aesthetic glutes you desire. Thank you for following us, and we wish you the best on your gluteal enhancement journey!