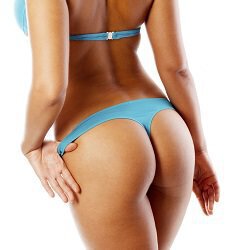 Posted July 01, 2017
As summer comes around, women across the nation start going to the gym or dieting to get their bodies ready for their brand new swimsuits. There are times, however, when the results of improved muscle tone don't match the goals of a more shapely butt or tighter smoother skin. In cases like these, women often turn to plastic surgery to achieve the aesthetically pleasing look they desire. Over the years, surgical procedures have advanced beyond what was previously possible. Not only are they safer, they also provide outstanding results quickly and effectively. Two of the most popular procedures available for putting the finishing touches on your summer body are Cellfina and the Brazilian butt lift.
What Is Cellfina?
Cellfina is an FDA-approved cellulite-reduction treatment. As one of the first plastic surgeons to utilize this method of cellulite reduction, Dr. Beverly Friedlander is pioneering this exciting new treatment with her New Jersey med spa. The procedure is minimally invasive, effective at improving cellulite on the buttocks and thighs, and only needs to be done once to achieve optimal results for at least three years. The treatment involves a process known as controlled subcision. This targets and releases the bands that cause cellulite. As a minimally invasive procedure, it doesn't require any downtime or the use of general anesthesia.
Improve the Shape of Your Buttocks with a Brazilian Butt Lift
In recent years, having a better butt has become more important to many women. Whether you want to show it off in your new bikini or shake it at a summer party, sculpting your butt can improve your appearance and confidence. Sculpting a better butt isn't simply about increasing its size – it's more about enhancing its shape and improving its contours. The Brazilian butt lift is the perfect solution for women who want to reshape their butt and also sculpt other areas of the body. Dr. Friedlander will transfer excess fat from your abdomen, waist, hips, or thighs to your buttocks to improve its shape. The procedure can improve the overall aesthetics of your body by contouring trouble areas while also improving your butt.
Schedule a Consultation
To learn more about these two treatments and to find out if you will make a good candidate, please contact our office to schedule a consultation. You may also call our New Jersey office at (973) 912-9120.