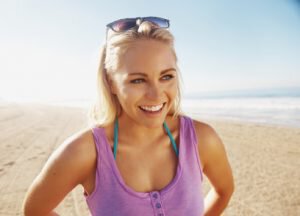 Posted June 15, 2016
When you think of peeling during the summer, you usually think of a bad sunburn, something you want to avoid at all costs. Chemical peels are different. This is a method of exfoliation performed routinely by skin care specialists who have been trained to help patients minimize the signs of sun damage and aging. While a chemical peel is controlled, that does not mean that there aren't certain precautions that should be taken to avoid undesirable side effects.
What Peels do
There are several layers of cells on the surface of the skin. They are there to act as a barrier between deeper, more fragile tissues and the outside world, and to maintain adequate moisture in those tissues. The cells that sit on the epidermis are anchored together by tiny fibers that span the skin's surface. They are also supported by extracellular compounds. In time, the glue that holds these cells together naturally weakens so new cells can make their way to the surface. This natural process helps the skin to look vibrant and healthy, but often this process simply does not occur quickly enough. This is where exfoliation comes in.
Chemical peels come in a wide variety of forms, but the intent is the same: to renew the skin by exfoliating or (removing) old and damaged epidermal cells. Treatment is customized to the individual after a thorough assessment by Dr. Friedlander and her highly skilled aestheticians. Lifestyle factors such as sun exposure are a very important part of the assessment.
The Sun and Your Skin
We all know that many of the signs of aging are actually the result of UV damage. Ultraviolet rays penetrate the skin and cause changes in collagen, the protein that supports beautiful skin. While it is important to protect your skin every day, there is an even greater need after an exfoliating chemical peel.
The acids used to accelerate the natural sloughing of skin cells create photosensitivity. This means that your skin will be even more prone to sun damage and burning in the weeks after treatment; but that's not all . . .Even though your skin will look normal within a few days (with a light peel) or a few weeks (with a deeper peel), the photosensitivity can linger for months. In addition to photosensitivity from the peel itself, the heat of summer also triggers increased activity in pigment cells. This can be a double-whammy to your skin.
There are several ways to promote healthy, glowing skin without putting yourself at risk. Chemical peels may be one of them. Call 973-912-9120 to explore your options with True Beauty Med Spa in New Jersey.